Endodontic Case Assessments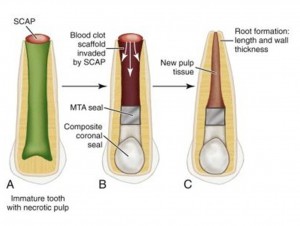 REGENERATIVE ENDODONTICS
This procedure uses tissue engineering principles to facilitate the continued growth and development of the pulp-dentin complex. If the tooth has an immature apex and necrotic pulp, regenerative endodontics allows for continued root development, thicker dentin walls, longer root length, and a closed apex, thus reducing the risk of fracture during tooth function.
Success is dependent on the activity of stem cells from the apical papilla (SCAP). These stem cells have enormous potential for tissue regeneration and bioroot engineering.
All immature teeth with open apices may be considered candidates for regenerative treatment, even if they have obvious pulp-space infection or a discharging sinus tract.
These recommendations are based on best available data at this time and should be one possible source of information used by clinicians to make treatment decisions. Moreover, given the rapid evolving nature of this field, clinicians should actively review new findings as they become available.